SmartBilling : Customizable Billing Software for Utility Departments
SmartBilling is Customizable Utility Billing software application meeting current core functions and future needs of any of the Government Utility Departments such as Water, Electricity etc, and shall integrate all aspects of utility services, including maintaining accounts, billing and collection, interface to meter reading system both manual and automated, service order processing, payment interfaces, and customer web access. Additionally, SmartBilling implements improvements to reporting functions, proactive e-notify billing and delinquency alerts, the ability to email bills (paperless billing) and improving the automation and streamlining of the utility billing process. SmartBilling developed with all the latest technologies and processes such as integrating with the Meter reading system to enable customer visibility into leak alerts and consumption history.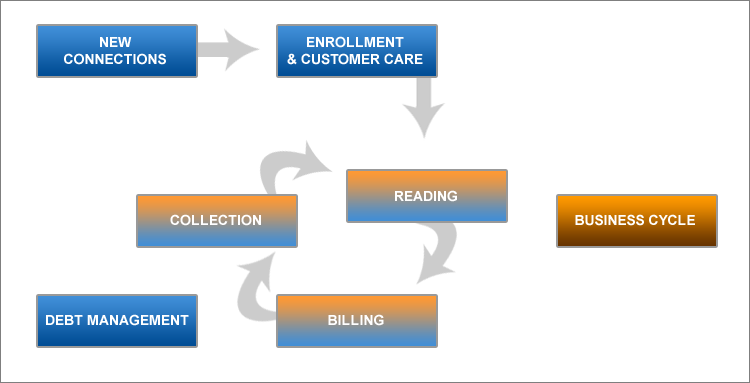 General Application Features of SmartBilling:
Customer, Account, and Location Management
This includes the creation, maintenance, and use of customer accounts, including balance transfers, deposit transfers and payment transfers.
Rates and Fees Management
This includes the maintenance and application of all utility rates, miscellaneous charges and fees.
Meter Reading and Inventory Management
This includes meter inventory, meter reading and consumption history.
Billing Management
This includes the preparation, calculation and printing of bills.
Financial Management
This includes payments, adjustments, refunds, deposits, and accounting entries.
Delinquency Management
This includes penalties, payment plans, shut offs, and collections.
Service Order Management
This includes creating, completing, and managing service orders such as but not limited to account openings, account closings, service lock offs and meter re-reads.
Reporting
This includes standard and user created reports to query data.
Advantages of SmartBilling:
Increase in revenue collection.
Improve customer service standards.
Increased staff productivity.
Improve overall efficiency and effectiveness of business process.
Provide overall accurate and timely reporting for planning and decision making.
Delegation of the billing function to the regional offices by use of strict controls embedded in the system.
Establish integration between the billing and oracle financial system
Timely and accurate billing. The new billing solution is expected to enable the company to provide timely and accurate billing which is extremely essential for cash flow and customer contract management. Estimation of bills will be based on a minority basis rather than the current majority basis.